BUILDING A TEAM
- For the Hospitality Industry -
Maximizing the Potential of Your Restaurant Staff with
Innovative and Effective Training for Restaurant Employees
---
These training ideas will successfully: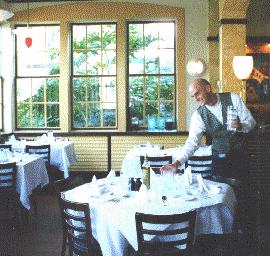 Build morale in your wait staff.
Provide a way for you to reward your restaurant employees in an exciting, yet cost effective way.
Allow you to customize the education, incentives, motivation and training of your restaurant staff with games and challenges according to your specific teamwork needs in selling your products.
Motivate your restaurant staff to personal success and prosperity of your dining establishment.
Make your restaurant server team consistent in their knowledge and performance for the benefit of your customers.
---
Authored by a restaurant manager at the Walt Disney World Resort, these pages contain creative and innovative ideas to educate your restaurant staff. This information can be customized to fit any type of hospitality or restaurant location. Restaurant managers can utilize this tool to educate their staff on the issues they choose in a fun way that will build morale and bind them as a team.
This easy to follow wait staff training manual can show you intriguing, innovative ways to capture the interest of your restaurant employees and help them retain vital information to make them more productive as a team.
With over 14 years in the restaurant business, I personally know how vital it is to have motivated restaurant employees. Moreover, your sales people will be equipped with the information they need to up-sell your products to your customers. For the past two years I have been responsible for incentive, education, training, and motivational programs for my restaurant staff. Many larger companies charge hundreds if not thousands, to come to your location, interrupt your schedule and attempt to provide these kinds of results. You will find these programs to be simple with minimal cost and maximum results!
About the Restaurant Server Motivational Tools:

Jeopardy Game
The game revolves around a display board that depicts categories such as restaurant history, menu items etc. The game can be customized to fit your needs. The wait staff must answer correctly the question from the selected category. The rewards are as creative as the game and I give you many options for these prizes. There are fun and exciting twists and turns to the game that really create a fun training environment from which the servers take valuable sales information. Dramatic results have been realized from the simple playing of this game and using it as a motivational tool. You won't want to miss this one!
The Grand Tour Game
The basic premise of "The Grand Tour" is to send each of your wait staff members through various learning stations, each one designed to focus on one particular aspect of your agenda. This game will take your staff to a new level of higher education, communicate the same information to all departments in your restaurant and form a more cohesive team, and make learning about your location fun and exciting so your staff will be more apt to receive and retain the information. This game is a favorite among the restaurant staff!
BONUS for you!
Also, you will get a real BONUS - a head start on using the restaurant incentive games! You will receive
Sample Jeopardy Categories already formatted for you. Things such as "New menu ideas", "Specialty drinks" and many more! This add-on will save you time in getting a jump start on the incentives with your wait staff. Also included are Sample Questions for the Jeopardy Game. These are invaluable to formulating your server staff challenge. Questions are likened to the following: What is Rum made of? All Romano cheese comes from what animal? What is Polenta made from? What is the procedure used to speed up the aging process of gorgonzola cheese? This add-on will also save you time because I've brainstormed exactly what you need to put the game into action immediately.
Order The "Building a Team" Restaurant Training Incentive Guides PLUS the Bonus "Jeopardy Game Sample Categories and Questions" now, to begin reaping the benefit of truly motivated staff in your establishment who may then heighten your sales.
To Order These Motivational Tools for Your Restaurant Staff:
The "Building a Team" Motivational Restaurant Training Incentive Guides can be ordered online for the low price of $19.95 which includes: the "Jeopardy Extravaganza" Game and "The Grand Tour" Game PLUS the BONUS "Jeopardy Game Sample Categories and Questions." It will be the most affordable investment you'll make in your team. Many other companies charge hundreds of dollars for consultation that may or may not yield these results.
Secure online ordering and immediate delivery via web browser available.
After your order is processed you will be able to read, download and print this information from your web browser.
| | |
| --- | --- |
| Order Method: | Instructions: |
| Credit Card | Click here to order from our RegNow distributor with the Secure Online Credit Card Order Form. They accept VISA, MasterCard, American Express and Discover. Note: "Register Now!" will appear as the charge on your credit card statement. |
| Phone Orders | Request product number 4411-1. The toll free order number in the USA is 1-877-353-7297; international customers should call (425) 392-2294. An additional charge of $2.50 is added to all phone orders. |
| Fax Orders | Complete the order form by choosing the credit card link above, in the payment method section, choose FAX Credit Card, then choose Finalize Order. Print it out and fax to 1-888-353-7276; international customers should fax to (425) 392-0223. An additional processing charge of $2.50 is added to all faxed orders. |
Copyright © IDAutomation.com, Inc. 2000. All trademarks are the property of their respective owners.